In August, we shared an update about the surge of shipments that came into the United States top ports: LA/Long Beach and New York/New Jersey.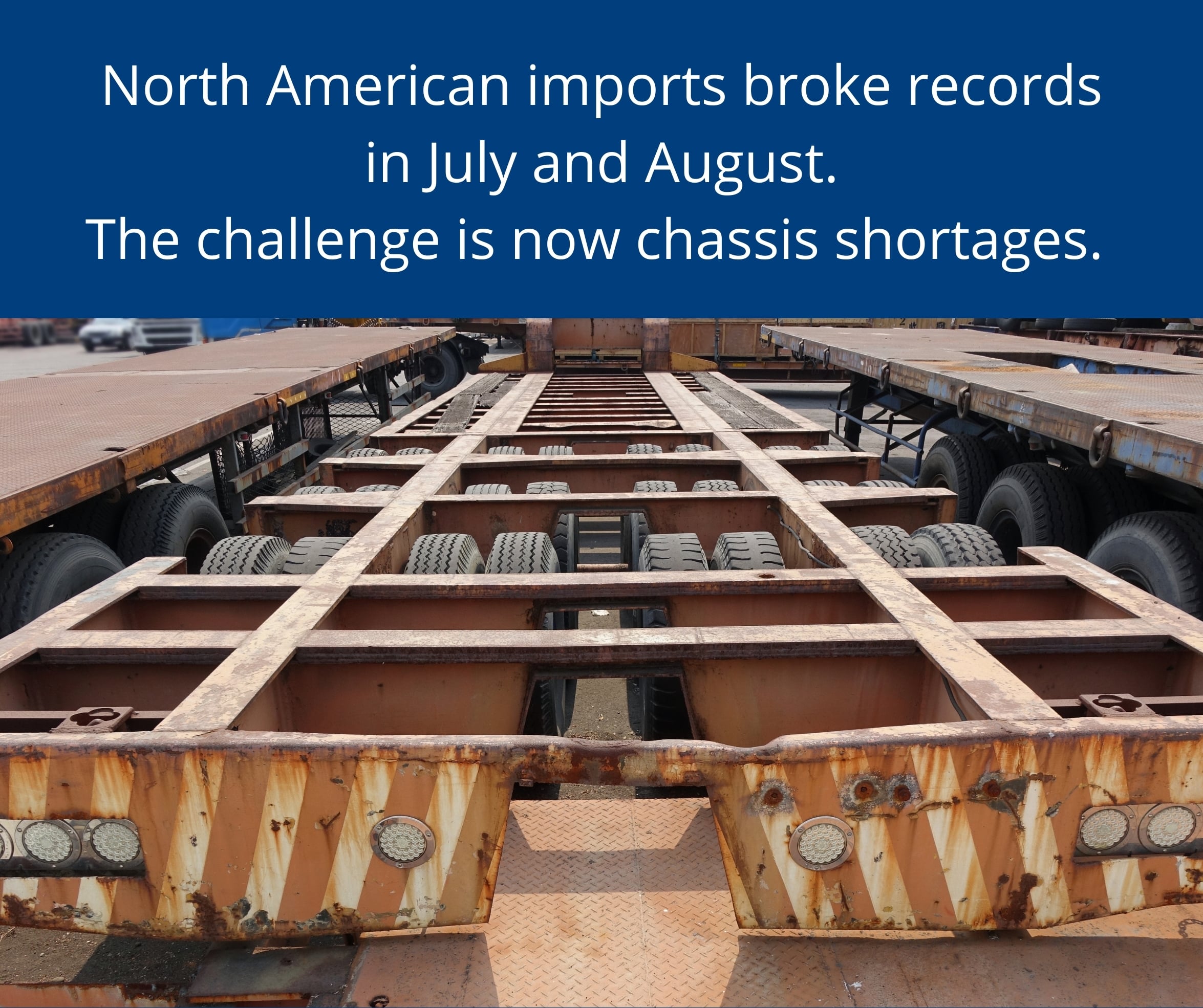 In fact, U.S. seaborne imports hit a record high in August after containerized freight shipments rose by 5.9% year over year with a total 2.7 million TEUs for the first time. Recovery has been driven by demand for consumer goods in the wake of COVID-19 with discretionary product imports up by 16.1% and staples rising by 34.9% on stronger food and personal care shipments. Industrial demand is also improving with imports up by 4.4%. A similar pattern can be seen in supplies with electrical components up by 9.6%.
Now that these cargo shipments have landed the story turns to chassis shortages. Here's what we're seeing as we continue to work to get shipments to customers' final destinations.
In Canada…
Canadian railroads are ramping up railcar supply to handle a surge of Asian imports through the Port of Vancouver, where port representatives were surprised by the recent spike in imports
July was Vancouver's busiest month of the year so far, with 303,559 laden and empty TEU handled. That was up from 275,171 TEU in June, according to port authority statistics. The spike in cargo contributed to increasing container dwell times, which in turn caused congestion at the marine terminals.
Likewise, Prince Rupert is experiencing long dwell times because of port congestion due to the spike in Asian imports and a lack of terminal space to hold import containers waiting to be loaded onto rail cars.  The Canadian National Railroad blames the month-long Montreal port labor strike that held up the relocation of rail cars to Prince Rupert. In August, some vessels were held up for 10 days waiting to be unloaded at the port.
In Southern California…
Imports in the ports of Los Angeles and Long Beach in July increased almost 40% from just two months earlier. Several factors, such as congestion at marine terminals and shortages of workers at warehouses, generated longer chassis dwell times at those facilities. But truckers say the unusually large number of out-of-service chassis also was a factor contributing to wait times.
Out of service chassis typically are in the of 5% to 6% range. In June numbers were about 14% or over eight thousand. This situation is contributing to equipment shortages in Southern California, say stakeholders who are urging equipment providers to step up repairs in the largest U.S. port complex.
In New York/New Jersey…
Imports from Asia to the port of New York/New Jersey were up 20.5% in July from June according to PIERS, a JOC.com sister company within IHS Markit.
A surge of inbound volumes through the Port of New York/New Jersey impacted available chassis and squeezed supporting warehouse capacity. While the second-busiest U.S. import gateway is mostly fluid, officials are watching the tightening chassis supply and warehouse capacity. In early August, TRAC Intermodal had 4,000 chassis available in road-ready condition; by late August it had about 400.
Supply chain executives have been quoted as saying that some of the recent cargo surge stems from the port dealing with vessel delays due to Tropical Storm Isaias. But volumes are also growing organically as the number of blank sailings decrease and shippers prepare for the fall and winter season.
Blank sailings trending down…
Blank sailings that had plagued the industry post COVID-19 quarantines are no longer the trend. According to estimates compiled by the Port Authority of New York/New Jersey, July showed a modest recovery with 22 sailings canceled for the month. August had about 10 blanks, and September and October have eight and two forecasted, respectively.
Asian imports are leading the recovery. Of the 10 sailings canceled in August, only one is an Asian service, 2M's TP11 from Southeast Asia. The remainder are trans-Atlantic Europe and Mediterranean services where the recovery remains slower.
Our team continues to manage the situation and is keeping clients updated on shipments.
For questions about your shipment please contact your Cargo Services representative directly.