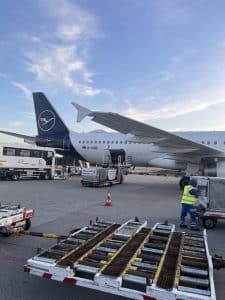 An analysis released in June 2023 by Canada-based Descartes, a logistics tech company, tells us what our team has known for years. China has lost ground to Asian competitors exporting some goods to the United States. While the country remains solidly among the America's top trading partners, our team is keeping an eye on this trend.
As more companies look for alternatives to Chinese manufacturing, our team is advancing the conversation by visiting regions around the world that are emerging as competition. This year we've traveled to India and Turkey to meet with partners and learn about manufacturing and supplier growth in the region. Our owners traveled to southeast Asia, visiting Singapore and Vietnam. And in late May, our Vice President of Sales Jefferson Clay made a similar visit to eastern Europe.
His main takeaway is that China's loss is the world's gain. European manufacturing businesses, particularly in the Eastern bloc, are ready to do business. Here are takeaways (in Jefferson's words) after visiting the Czech Republic, Poland, Germany and Hungary.
This was my first trip to Europe since before the 2020 pandemic. I was able to meet with both partners and customers face to face, which is becoming more essential to doing business in the freight forwarding and transportation industry.
Meetings and conversations focused on:
Challenges related to the European trucking industry, which is similar to the United States. The countries visited tend to be landlocked, inland transportation is essential. There is a lack of drivers and demand is high.
Rail transportation in Europe. It remains a challenge, but transit time and congestion is improving. Ukrainian grain exports are moving via European rail instead of sailing on the Black Sea. Rail remains a difficult endeavor, but our partners are managing the process.
Securing equipment (empty containers). This is a never-ending challenge. Through our relationships and partners, we've found creative ways to bridge the gap.
The Eurozone and recession. According to recent data reported by ReutersEurozone data shows a first quarter recession, yet economists predict subsequent growth in 2023.
Currency and its effect on trade. The strength of the dollar versus the euroshows varying signals and signs day by day and week by week. The news tends to impact buying U.S. goods by European firms among consumers and businesses.
Inflation and its impact. It varies from country to countryand tends to be higher in countries that don't use the euro. Stated inflation is much lower than actual inflation.
There are job openings and unemployment ratesare high with an average European 6% unemployment figure.
As a result of these economic factors, shipping rates are low from Asia to Europe with rates from Europe to Asia are running at cost levels. The highest costs are currently for shipments with rail destinations on both sides.
Overall, Eastern Europe is bouncing back. People are moving again and enjoying life. Planes, trains and automobiles are full of people traveling at pre-pandemic levels. And even with that first quarter Eurozone recession, economists predict a rebound by a modest 0.2% in each of the remaining three quarters of this year.
Our partners are ready to do business. If you think building a relationship with a company in a new market makes sense, contact our team at Cargo Services.