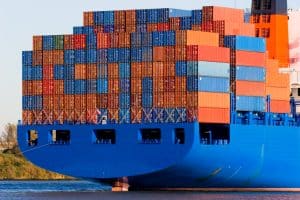 Port disruption continues to impact freight forwarding due to a variety of factors.
Surging demand for goods being shipped from Asia to North America along with Asia to EU trade.
Lack of vessel space
Container shortages related to labor disputes, congestion and COVID-19 disruption.
Our team is monitoring and managing notices from shipping lines related to these factors.
Due to increased volume, there are congestion issues on the U.S. East and West Coasts.
On the U.S. East Coast vessel wait times to port are 24 to 48 hours.
On the U.S. West Coast vessel wait times to port range from a day to six days.
Canadian port yards are operating from 90% to 104% capacity this week. Vessel wait times at Prince Rupert and Vancouver are up to five days.
In Asia COVID-19 quarantine requirements imposed on ship crews are now impacting feeder services.
For example, Evergreen announces suspension of service on cargo ships running between South China and Hong Kong/Yantian.
We also are keeping watch on the value of the U.S. dollar.
The dollar is at its near weakest level in over a year against at least 17 currencies (including eight of the G10 currencies), according to calculations from Deutsche Bank.
The USD has lost about 13% of its value vs the Euro and Pound Sterling.
The USD against the Yuan has fallen to 2016 rates.
The impact could make U.S. exports cheaper to foreign buyers importing goods. U.S. consumers could also face higher prices.