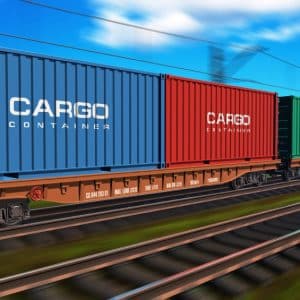 The Indy Rail Ramp, operated by the Indiana Railroad, was announced four years ago, in January 2014. The service appears to be operating as promised with the goal: to reduce transit times while improving transportation consistency to make supply chains competitive for Midwest companies. The Rail Ramp offers Midwest companies a great option to save transport costs and transit times.
This is the only Class 1 facility with access to all three coasts (Atlantic, Pacific and Gulf) from Asia,
Europe and other global ports. The Rail Ramp, located in downtown Indianapolis (see right) off Senate Avenue has easy highway access to I70 and I65 for trucking.
Companies are realizing cost savings on inventory, trucking and fees. As an example, data from the last 27 months shows total transit time from Asian ports via Price Rupert is 22.6 days. The average truck turn time at the Indy Ramp is 16 minutes. The Chicago ramps can take hours, depending on chassis situations.
In comparison, recent data shows shipping to Indiana from Asian ports via Long Beach can take from 25 days (Japan) to 32 days (Thailand).
The Indianapolis Rail Ramp team recent announced a series of updates:
Additional ground at the Indy intermodal ramp has been acquired, prepped and is in use by our ramp team. This will provide more space and more efficiency.
Construction of light towers at the Indianapolis facility is scheduled for June.
Expansion at the Ports of Prince Rupert and Vancouver remains on schedule, and is set for July completion. This means better speed to market in the long term.
As CN tweaks its service from Mobile and New Orleans into
the Midwest, Indiana Railroad Company wants to develop opportunities for Gulf-to-Indy service.
We have a number of central Indiana clients enjoying the fast transit and very consistent service utilizing the Indy ramp from Asia. Furthermore our local truckers are very easy to work with and on time appointment deliveries work very well.
If you would like to learn more about the Rail Ramp and options for your supply chain, contact Cargo Services by calling 800-645-0386.