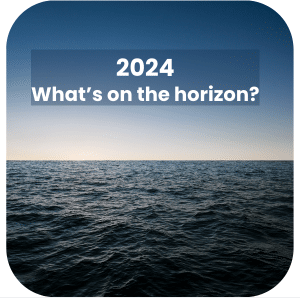 As we look ahead and see 2024 on the horizon, our team is keeping watch on current shipping trends. Rates are low, which is the good news. Yet disruptions could make the New Year bumpy. Plan ahead with a diversified shipping strategy.
Labor agreements
Maritime employers and the union representing longshore workers on the U.S. East and Gulf coasts failed last month to agree on new pay raises. The union president advised members to "start saving money" to prepare for the possibility of the first east and Gulf Coast strike in 47 years. Leaders also said they would like to see more union professionals in management roles. The current agreement expires September 2024.
Global unrest
In 2022, a total of 23,000 vessels transited the Suez Canal, carrying 1.4 billion tons of cargo.
Our team is carefully watching the impact of unrest in the Middle East and its potential impact to the Suez Canal. A conflict escalation could potentially lead to attacks or blockades in the vicinity, disrupting the flow of goods.
U.S. government budget
It appears congress will continue its budget debate into the New Year. If a government shutdown were to happen, most of U.S. Customs and Border Protection, including import handling, are considered essential. ACE electronic transmissions should continue to function as normal. However, customs agents themselves could be furloughed.
Environmental impact
Currently there are limitations on the number of ships that can travel the Panama Canal. The limitations, first implemented in June, initially had a limited impact on container shipping operations as carriers had yet to get aggressive in blanking capacity to match weak demand. But now lighter loadings mean empty cargo holds, which pinches carriers bottom line as their operating costs rise.
New route
Less about disruption and more about options, we are keeping our eye on the potential for rail from Lazaro Cardenas terminal in Mexico via rail to the Midwest as an alternative to Panama and U.S. West coast rails. Lazaro Cardenas opened in 2017 as part of a $900 million investment. It is the first semi-automated and most technological advanced container terminal in Mexico. The port with rail to the Midwest is several years away but would alleviate passage through the Panama Canal.
The takeaway: Diversify
In the past, we've preached diversification in both carrier alliances and ports. We are urging our customers to continue to diversify and consider U.S. East and West coasts, as well as Canadian and potentially Mexican ports, for supply chain planning.
Air freight is from Asia to the United States is back on schedule. We've got service and availability. Capacity will be consumed quickly by any disruption, so plan ahead.
Revisit inventory levels and supply chain routes. There are potential disruptions in all sectors, so be flexible and quick to pivot.